background, part one:
Last week (Monday) each student in my class planted two pea seeds. They have been eagerly awaiting growth.
background, part two:
The children in my class are great writers. They have fascinating ideas and are writing a variety of pieces. One thing they are not yet adept with is using punctuation marks consistently and accurately.
On Friday, the children were observing and drawing
day 5
of waiting for the pea seeds to grow. There was much excitement when they discovered what was going on under the soil. Lina came to me immediately, "Look, Ms. F! I used excla-bination marks!"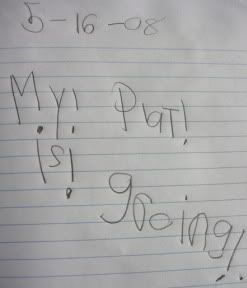 [
My! plant! is! growing!
]
Indeed she did. ♥