[click on either photo to enlarge]
When I came back to my classroom today, this was on my desk...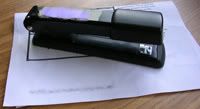 This was the note inside the paper...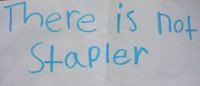 As soon as I opened it, I nodded, going immediately to get some staples with which to reload our stapler. On my way, I stopped and giggled to myself, because it hit me what words were actually on the note. I'll let you reread...
I realized that someone that doesn't work with or think like young children on a regular basis might find the whole thing odd.
There is not stapler
-- in a note... underneath a
stapler
. Hahahaha!! Logically, well, it doesn't make sense. Why wonder about the stapler when it's right there? It amused me greatly, I think, because sometimes I get so used to reading/interpreting the
meaning
behind what my students are saying or writing, that I forget that sometimes the literal translations are priceless.
First grade is
awesome.
♥
Also, we had our First Grade family night tonight -- nearly all of the first graders showed up and we taught our families about the famous Americans that we have to study this year. The kids were amazing! Tomorrow we're having a popcorn & lemonade party to celebrate. But, shhhhh... they don't know it yet.
*love*