The classroom pictures that I threatened
yesterday
...
This year's set up has to accomodate at least 22 children, possibly more, depending on how registration goes. With four round tables, that's 16 children, then adding the hexagon, that's another 6, for a total of 22. I wanted to make sure to have another small space for working and figured that I could accomplish that with desks. You'll see that in the first picture.
So...
[
NOTE:
Click on any image to make it larger]
Looking across the classroom from the doorway.
You can see the near round, the hexagon, a round in the far right (that'll be the table near the math shelf) and if you look beyond the red pocket chart in the center of the picture, you can see a round in the back corner of the room...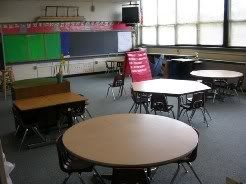 The big book area/teacher desk from the doorway.
You can see three of the tables that were in the picture just above. In front of my desk, there is an easel, a stool, and a white wire shelf that houses big books. This is a station that the children use during the school day (particularly during our Literacy Work Stations, but we've used it during Math time and other times when the kids want to). I like having it right in front of my desk for two reasons:
It creates a kid space that is intertwined with a teacher space, and sort of keeps my desk from being something that people see automatically when people walk in.


Physically, it takes away the lure of my desk as a place that's off-limits. During the first weeks of the year, I do refer to it as a teacher space, but once the kids are ready, my desk becomes a place where they can sit (in a comfy swivel chair!) to read or work on other things.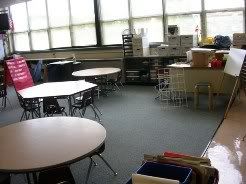 Looking left from the big book area
Here you can see the hexagon table and the little 2-person table made by putting two desks together. You can also see the other round table that wasn't visible in the other pictures. At the end of the room, next to the rocking chair is a Smart Board. We'll have this to share between the first grade classrooms, and I'm excited to use it more this year. So, I tried to plan in a space for it, that way, it won't be
making room
for it, but rather, just fitting it back into it's space.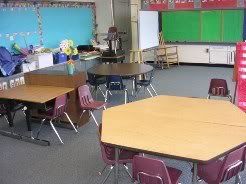 Looking right from the circle table by the door.
This is just a close up of what you've already seen. :)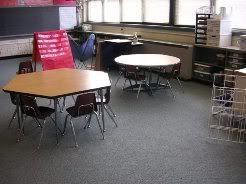 Close up of the table/book area by the meeting area.
This
is an experiment...
When we moved this table into the room, it ended up almost right in this spot. Those of you that know me as a teacher setting up my classroom may remember that a large portion of me arranging furniture in the classroom involves me standing somewhere in the room, not moving, and just thinking. In my mind I'm imagining something as a working space. I'm envisioning children there using it, I'm imagining the flow of movement, I'm imagining potential pitfalls. Something about the placement of the table struck me, and I stood there for a long time, imagining it becoming a work space/library/instructional space and I got more and more excited. Next to the blue butterfly chair is a little waterfall bookshelf that juts out from the shelf against the wall, forming a little library area.
There are some possible problems with having a table so close to our meeting area, but I figure... I can take it. :)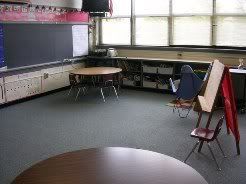 Oh, I forgot to mention with this picture, there's that little easel there (with the red pocket chart on the back?) that may end up moving somewhere else. It is sort of right out there in the middle, but the pocket chart will make it another work station for the children, and once we get going, the easel will have a white board and our chart tablet with Morning Messages, so it may actually end up working really well right there.
So, that's that. It's funny, because I don't think pictures do it justice at all. Last year's set up just
looked
pretty [image
here
], whereas this doesn't have the aesthetic satisfaction in pictures. I will say, that walking in after a good night's sleep? I felt energized by the set up. There is more space than there was last year -- which I think is going to be really important with more kids
and
the fact that this year's class comes with a bit of a reputation. (
pah
, I say. They will be glorious.
We
will be glorious!) I did realize, though, the other picture had the pretty flowers out and such. Once I get a few plants and add some of the little, simple touches, maybe this will feel pretty, too.