I can't believe it's only Wednesday.
I feel like I've worked a full week already. ♥ As is usually the case for me when setting up the classroom, there is still a
lot
to be done. I managed to contain my messes to three areas (one of which is a rather big one -- the closet -- which I'll be attacking tomorrow) and get a lot more moved/accomplished. The funny thing is, just clearing off the tabletops and putting the mess in one place makes me breathe a whole lot easier. [click to enlarge any of the images]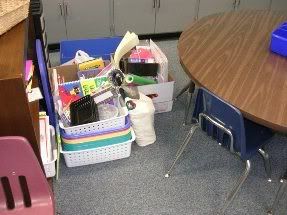 This is not so much a mess as a bunch of paperwork and notes and little projects all on the same table. Heh, and it appears that I left my Starbucks indulgence right there on the table instead of bringing it home. Oops.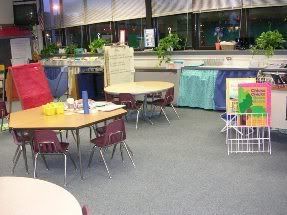 Here are some of the areas that were covered and scary yesterday...
This table was covered with books, but I've since consolidated them into a box. Really, they're books I've decided to keep, but I can't put them on my shelf until I thin my collection a bit. I also cleared off the counter and started to get it ready for all of our learning tools. (Tomorrow I'll try to remember to talk about the mini-table formed by the two desks pushed together.)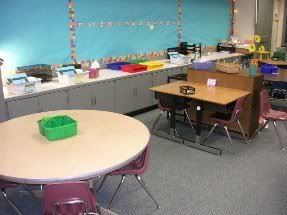 I organized a lot of the little things that we use during lessons (things for the calendar, tools for shared reading, random other crap that needs a home) -- it's all behind the round table in a shelf or drawer-compartment under the Smart Board. You can also see the blue basket in the middle of the table. Each table has a different colored basket for crayons, scissors, and etc... the tables are labeled by colors and each student has a sort of 'home' table. We'll use all of the tables and children won't always work at their table, but it's a starting place -- and a bit of structure that works really well in the beginning of the year. Today I labeled each table with the kids' names.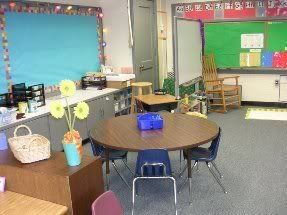 Here, to the right of the meeting area, I put up the green pocket chart, put the little green floor recliner in front of the library area, and added the listening center. It's in behind the table, but when it's time to use it, the children will pull it out and then slide it back when they're done.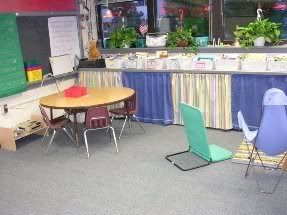 I completed a couple of projects today (and checked them off my list!). This first one is the sign-in area when the kids first walk in the door. The shelf was a bit beat up on the top, so I covered it with contac paper and then put the flowers there and a cup with pencils. I didn't put the sign-in sheets here yet to keep the kids' names private.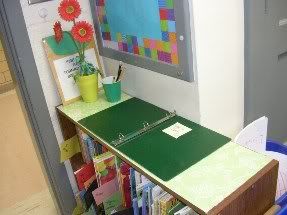 This was an inspiration I (finally) had after lunchtime. I like to put up a welcome board outside the classroom with kid's names, and then add their photographs after they get to school. I keep the sign up all year, so I like it to look good, be durable, and have some sort of learning theme. The past years, I've done: "Growing a Garden of Learners" (with flowers with the kids' names & pictures) and "Soaring to Great Heights" (with kites with their names and pictures). Each one of these I've saved to use again in the future, but I wanted to come up with a new one this year so I have three to rotate in the future. Our administration has been using a theme with us of boats and sailing together, so I thought keeping that going with the students would be a good connection.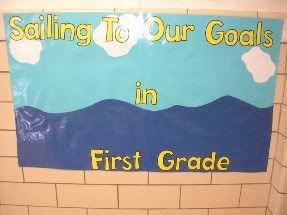 I hope you all are doing well, those of you that are teaching already, those that are getting ready for students to come back, those that are my neighbors or colleagues, my mother and mother-in-law, and others that I may not have met yet.
I'm starting to see the light at the end of the tunnel. And the best thing about that? It means soon I get to meet my students, which is
always
the best part. ♥