Completely. Exhausted.
I absolutely
love
setting up the classroom. I love the challenge of making the flow work for the kids, of creating a space that feels cozy and welcoming, of building a space that will grow and evolve with the children as we take our journey together.
I think the process would not exhaust me so much if were more efficient with my time (and more organized with things on a
regular
basis, and perhaps if I had less stuff), but it's one of those things that just does not come easily for me.
Today I spent far too long in various meetings/planning and didn't get to finish everything I wanted, but the classroom is ready. Now I just need to do a lot of the making and cutting and gluing of things we will use for the first week of school. (well, and there are still two boxes of books to be sorted and a box of... erm, random stuff that I need to deal with, but believe me when I say that will just have to wait.)
Tomorrow we have Open House and a Family Picnic in the morning (early so families can come before work) and then a bunch of meetings in the afternoon. It'll be nice to have a non-sweaty day, I think.
So, only a couple of pictures today -- things don't really look that different.
Here you can see a couple of books in little single display stands. These are books that we will read early in the year and I like having them out before we actually read them.
This picture is taken from the rocking chair and looking left toward the window. You can see some more books up in little display stands.
This is still taken from the rocking chair, but looking right down the center of the room. We will use the easel for a lot of learning this year -- both lessons that include me and as a station for students during our learning stations (one side will be an ABC station and the other side will be a pocket chart station). Note the little frog rug just under the easel... yeah, that's new. I like frogs. ♥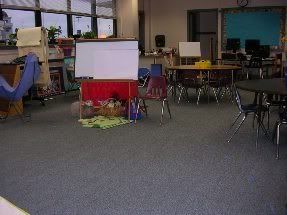 Alright all, I'm going to watch Rafael Nadal play tennis for a little while longer and then head to bed. Have a great night!